Are you looking for the best BtoB profile? You came to the right place. I will give you everything you need to know about the boys. Including member profiles, videos, pictures and much more.
---
1. BtoB Members
Former Members
Lee Min Woo
He was born on December 20, 1995.
His height is 178 cm.
He weights 55 kg.
He used to be a rapper of the group.
His blood type is A.
Lee Min Woo is a member of C-Clown
---
2. BtoB Profile History
---
3. BtoB Music
Studio Albums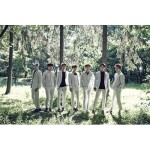 Complete
Released: June 30, 2015
Extended Plays
Singles
---
4. BtoB Fashion and Style
Coming Soon!
---
5. BtoB Tour
Do you want to know, if BtoB are in your area?
This is the place fr any events or concerts.
There are no BtoB events in your area.
Please check back for updates.
---
6. BtoB News
---
7. BtoB Videos
What do you think about my BtoB profile? Did i miss anything? I would love to talk to you about these boys!